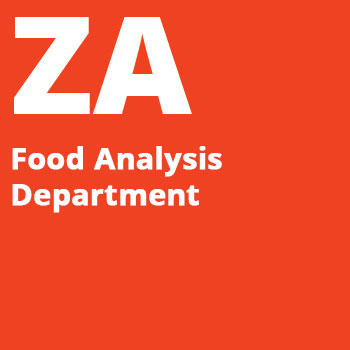 Food Analysis Department (ZA)
was established at the Institute in 1971 as a departmental analytical center of the Ministry of Food Industry and Purchase. Since its inception, it has been specializing in food research requiring modern scientific equipment and high qualifications of research and technical personnel.
Department Structure
GMik – Mycotoxins Problem Group
GPest – Pesticides Problem Group
GMet – Metals Problem Group
Contacts
Nazwisko Imię
Tytuł
Symbol
Pracowni
Telefon
e-mail
Bednarz Janina
22 606 38 16
Bryła Marcin
dr hab. inż. prof. IBPRS
GMik
22 606 38 42
marcin.bryla@ibprs.pl
Juszczyk Karolina
mgr inż.
GPest
22 606 38 54
karolina.juszczyk@ibprs.pl
Kanabus Joanna
mgr inż.
GMik
joanna.kanabus@ibprs.pl
Kosowska Angelika
inż.
GMet
22 606 38 16
angelika.kosowska@ibprs.pl
Kowalska Marta
inż.
GMet
22 606 38 16
marta.kowalska@ibprs.pl
Ksieniewicz-Woźniak Edyta
mgr inż.
GMik
22 606 37 36
edyta.ksieniewicz-wozniak@ibprs.pl
Pierzgalski Adam
mgr inż.
GMik
22 606 37 36
adam.pierzgalski@ibprs.pl
Popowska Monika
mgr inż.
GMet
22 606 37 40
monika.popowska@ibprs.pl
Roszko Marek
dr hab. inż.
prof. IBPRS
GPest
22 606 36 77
marek.roszko@ibprs.pl
Rumińska Weronika
mgr inż.
GMet
22 606 37 40
weronika.ruminska@ibprs.pl
Świder Olga
mgr inż.
GPest
22 606 38 54
olga.swider@ibprs.pl
Szczepańska Magdalena
inż.
GPest
22 606 36 48
magdalena.szczepanska@ibprs.pl
Szymczyk Krystyna
Z-ca Kierownika Zakładu
dr
GPest
22 606 38 97
krystyna.szymczyk@ibprs.pl
Woźniak Łukasz
dr inż.
GMet
22 606 38 16
lukasz.wozniak@ibprs.pl
Scope of activity
The main directions of the Institute's scientific and service activities are as follows:
Research:
– Analytical methods development for the assessment of food quality and safety. Development, adaptation and application of modern analytical methods and techniques for the study of chemical and biological pollutants, nutrients and adulterations;
– Identification and quantification of natural constituents and environmental pollutants in raw materials and food products. Nutrient research. Monitoring food pollution. Analysis of the risk of occurrence of contaminants in food;
– Health quality standards development for raw materials and food products;
– testing the authenticity (adulteration) of food and fodder: detection of permitted and prohibited additives in food;
– introduction into the production practice of natural food products with pro-health features, including increased nutritional value and reduced content of undesirable substances.
Services:
– Analyzes and expert opinions on the quality of raw materials and food products for business entities;
– Standardization activity in the scope of amendments to the subject standards of the fruit and vegetable industry and methodological determination of food contaminants (PN, PN-EN, PN-ISO).
Training:
– Training in the of modern analytical techniques field used in the analysis of food pollutants.
The Department conducts research on many chemical and biological pollutants as well as selected basic nutrients of food products and additional substances, which are increasingly introduced into food produced in Poland. The conducted research allows tracking the world's most important achievements in the area of food analysis. The results of analytical research have been and are being used in the agri-food industry in the development and evaluation of new technologies and the production of high quality food products, also promoting the export of Polish food products and their introduction on the domestic market.
The credibility of the obtained results has been confirmed by the repeatedly positive assessment of participation in national and international proficiency tests and inter-laboratory comparisons. The department also participates in establishing a reference value in plant materials for proficiency tests organized by the Institute of Nuclear Chemistry and Technology.
The Food Analysis Department specializes in:
– raw materials and fruit, vegetable and cereal products,
-juices, drinks, fruit and fruit-vegetable nectars
-beer, wine, spirits
-confectionery and bakery products
-coffee, dried fruits, nuts, culinary spices and others
We use modern instrumental techniques, including:
-high performance liquid chromatography (HPLC) with detectors (UV, FL, DAD, RI, MS)
-gas chromatography (GC) with detectors: FID and MS / MS;
-atomic absorption spectrometry (FAAS, FES, ZETAAS, HGAAS, VG-AAS);
-UV-VIS spectrometry
Accreditation
The IBPRS Food Analysis Department performs tests confirmed by the Research Laboratory Certificate of Accreditation AB 452 issued by the PCA.
Zakres Akredytacji Laboratorium Badawczego nr AB 452
Data wydania: 26.11.2019 r.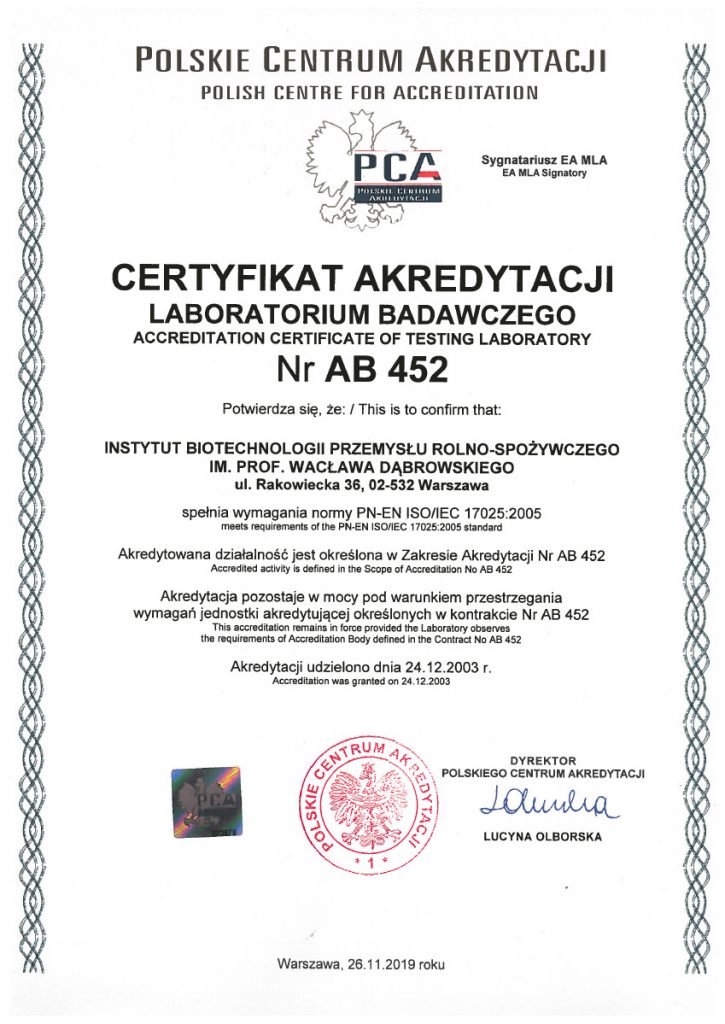 Research offer. Food Analysis Department.
IBPRS Customer Satisfaction Survey
Research

:
of of fruit and vegetable products technology development with pro-health and special nutritional purposes (functional food), also using biotechnological processes;

exploring the possibilities of applying new and improving existing techniques and technologies for the processing and preserving of fruit and vegetable products;

of for fruit and vegetable products technology development using lesser known, regional and/or organic raw materials with high health-promoting potential;

Production technology development for fermented beverages based on malted cereal grains;

establishing criterias for the evaluation of physicochemical, microbiological and sensory quality as well as developing and adapting new analytical methods for the testing of raw materials, semi-finished, fruit and vegetable, malting and brewing products;

Suitability assessment for the production of new malting barley and hops varieties, proposed for cultivation in Poland;

Malting and hop products production technologies improvement;

Wort production technology improvement, fermentation, maturation and filtration of beer;

Technologies and techniques development of waste production management in the malting and brewing industry;

Natural flavors and food dyes testing and receiving.
Services:
Quality testing of raw materials, semi-finished, fruit and vegetable, malting and brewing products, using chemical, physicochemical, enzymatic, sensory and instrumental methods,

Raw materials and agri-food products nutritional and energy value testing,

Expertise on the authenticity of juices, concentrated juices, nectars, fruit beverages and purées,

Quality and microbiological safety testing of semi-finished, fruit and vegetable and brewing products,

Food products thermal fixation processes control,

conducting selected technological processes in the fields of fruit and vegetable processing and malting at the microtechnical scale;

participation in the development and amendment of subject standards of the fruit and vegetable industry in terms of their adaptation to EU directives and international standards (EN, ISO, CAC / FAO-WHO).
Training:
training in physicochemical and microbiological analytical methods within the scope of activity conducted by the Department