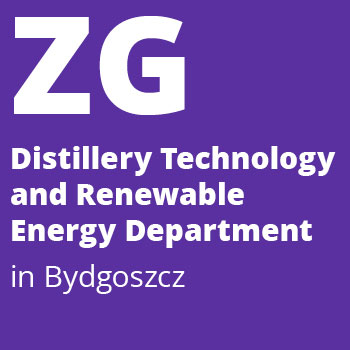 The Distillery Technology and Renewable Energy Department (ZG) conducts research and development, research projects and laboratory analyzes in the fields of renewable energy sources, with particular emphasis on biofuel production and bio-waste management. Research is carried out on the management of agri-food waste, i.e. biomass of various raw material origins (lignocellulosic waste), as well as food waste in order to obtain energy carriers (bioethanol, biogas, biobuthanol). Research works also concern the use  of post-production waste, such as distillery stillage and digestate from biogas plants, in order to obtain soil biopreparations. The ZG department offers research in the field of protein analysis and other physico-chemical determinations in industrial raw materials and compound feeds. We analyze the content of cellulose, hemicellulose and lignin in fibrous raw materials intended for fodder or as fertilizers. In addition, we analyze nitrates, nitrites, COD, heavy metals and other pollutants in soils and fertilizers. We also determine chemical impurities in ethanol and alcohol products.
The research activity includes:
optimization and intensification the technological process of ethanol production,
research on the technology for processing new or unusual distillery raw materials into ethanol, using fermentation method,
development of technologies for reducing the content of volatile

 

compounds polluting ethanol,
development methods for agri-food waste management towards obtaining low-emission energy carriers,
research on technology for the second-generation biofuels production from lignocellulosic biomass,
research on biochemical methods of lignocellulosic structure decomposition including thermochemical and enzymatic treatment,
research on utilization of distillery stillage for fertilization, fodder and biogas purposes (determination of biogas yield),
development of a protein-mineral preparation for farm animals – an alternative protein-energy animal feed,
research on the production of biofertilizers based on waste from methane fermentation, characterized by high bioavailability for plants – an alternative to synthetic fertilizers.
Manager:
Katarzyna Kotarska, Ph.D.
phone +48 52 341 00 82
e-mail: katarzyna.kotarska@ibprs.pl