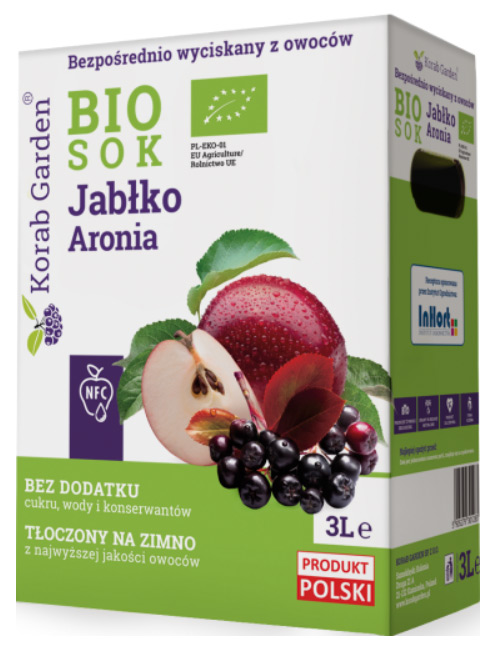 Multi fruit premium bio-juices
BIO JUICE PREMIUM has a high content of potassium and manganese. Potassium helps maintain normal blood pressure, while manganese helps protect cells from oxidative stress. Our fruits are of unique Korab variety, grown solely on our organic plantations.
We cold press the juices from the whole fruit ourselves which preserves all valuable ingredients undamaged. The innovative manufacturing method allowed to eliminate the astringency of chokeberry. Producing bio juices in our own processing plant, we keep control over the whole product manufacturing and distribution process: fruit- production-customer.
BIO JUICE PREMIUM – 100% healthy and 100% fruit
BIO JUICE PREMIUM is manufactured without the addition of preservatives.
Modern packaging technology allows to maintain its freshness and all health-promoting qualities up to 6 weeks after opening.
After opening, BIO JUICE PREMIUM must be stored at room temperature. Shake before use.
3 liters of juice are enough for a monthly treatment – drink 100ml of BIO JUICE PREMIUM per day for best results.
Manufacturer website: