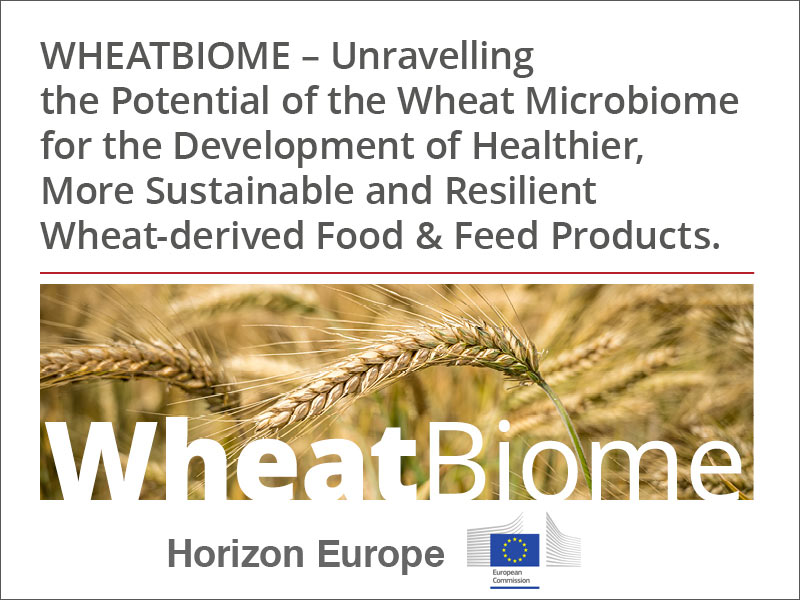 WHEATBIOME – Unravelling the Potential of the Wheat Microbiome for the Development of Healthier, More Sustainable and Resilient Wheat-derived Food & Feed Products.
WHEATBIOME project aims to promote healthy & sustainable food systems by protecting the soil, the crops, and, ultimately, the plant-based feed and food via microorganisms.
REQUIMTE REDE DE QUIMICA E DE TECNOLOGIA ASSOCIACAO from Portugal is the Project Coordinator. The Consortium consists of 12 more partners from countries like Portugal, the Netherlands, Spain, Poland, Hungary and Lithuania. The Institute of Agricultural and Food Biotechnology is one of the beneficiaries of the WHEATBIOME project.
The WHEATBIOME Project will kick off in January 2023 and will be carried out for 48 months.
The key expected results are:
Increasing the knowledge on microbial communities related to wheat farming and delivering best agricultural practices to boost sustainable farming procedures, as well as restoring soils and ecosystems' biodiversity.
Determining the best performing microbial communities/species to generate enriched and more resilient wheat crops and delivering novel sustainable and healthy wheat-based microbial-derived feed and food products.
Characterizing the nutritious and healthy properties of wheat crops and derived products, ensuring their safety for animal and human use, and their sustainability.
Reducing the food waste by promoting recircularization of wheat discards/by-products in food and feed lines.
Identifying the needs of the food system actors regarding microorganisms for their adherence to environmental and economic-balanced agronomic practices towards more resilient and sustainable food systems.
Delivering a digital decision support tool for wheat farming based on data collected during project execution.
Promoting best practices across food systems via strong communication & dissemination actions, training of stakeholders in microbiology skills, and synergies with ongoing food and microbiome EU-funded projects.
WHEATBIOME follows a translational, multidisciplinary and multi-actor approach to achieve a greener and healthier Europe, including cooperation between the private sector, academia and government. This consortium includes expertise in: human microbiome, agro-edaphic microbiomes, plant biochemistry, microbial biotechnology, nutrition, food technology, large-scale food production, sustainability assessment, animal health research, food and feed legislation, clinical trials & ethical issues, computer science, communication/dissemination andeducational/training activities.
FUNDING  – Call: HORIZON-CL6-2022-FARM2FORK-01
(Fair, healthy and environmentally-friendly food systems from primary production to consumption)
Topic: HORIZON-CL6-2022-FARM2FORK-01-09
Type of Action: HORIZON-RIA
PARTNERS:
REQUIMTE REDE DE QUIMICA E DE TECNOLOGIA ASSOCIACAO (Portugal) – Coordinator
UNIVERSIDADE DO PORTO, Portugal
UNIVERSIDAD DE VIGO, Spain
UNIVERSITAT DE VALENCIA, Spain
INSTYTUT BIOTECHNOLOGII PRZEMYSLU ROLNO-SPOŻYWCZEGO IM. PROF WACLAWA DABROWSKIEGO – PANSTWOWY INSTYTUT BADAWCZY, Poland
CONTACTICA SL, Spain
STICHTING WAGENINGEN RESEARCH, the Netherlands
SZKOŁA GŁOWNA GOSPODARSTWA WIEJSKIEGO, Poland
UNIVERSIDADE NOVA DE LISBOA, Portugal
NEMZETI ELELMISZERLANC-BIZTONSAGI HIVATAL, Hungary
EDITORIAL AGRICOLA ESPAÑOLA S.A. , Spain
UAB ART21 Lithuania
ISANATUR SPAIN SL, Spain