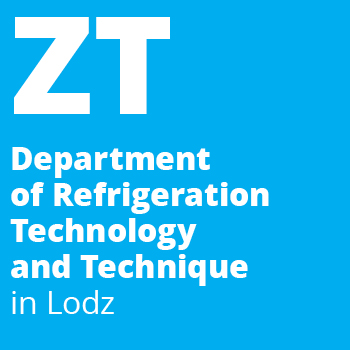 DEPARTMENT OF REFRIGERATION TECHNOLOGY AND TECHNIQE
The Department of Refrigeration Technology and Technique (ZT) in Lodz, Poland, since January 1, 2008 has been an organizational unit of the Wacław Dąbrowski Institute of Agricultural and Food Biotechnology – State Research Institute in Warsaw. It was established on the basis of the Frozen Food Industry Research Laboratory (CLCh) in Lodz.
The specificity of the activity of the Department of Refrigeration Technology and Technique is conducting scientific research and implementation works in the field of technology and techniques of food production, especially frozen and chilled food as well as development of new technical solutions in the refrigeration industry.
Moreover, the Department deals with environmental protection issues in refrigeration, air conditioning and heat pumps, concerning: uncontrolled emission of synthetic refrigerants, contamination of regenerated halogenated saturated hydrocarbons, monitoring of greenhouse gases.
The Department offers cooperation in the fields of:
development of technologies of innovative food products preserved by freezing, chilling, vacuum packaging and in a protective atmosphere (MAP) as well as recipes and technologies of ice-cream and frozen desserts
structure formation of frozen and chilled products
research and experimental optimization of cold and freezing storage of food products
research on food quality, including chilled and frozen food products
research on technological usefulness of new raw materials and additives in production of chilled and frozen food products, ice-cream and frozen desserts
research for the agro-food industry in the area of refrigeration aimed at

reducing of the production energy consumption
improvement of environmental protection
reduction of atmospheric emissions of refrigerants
calculation and minimization of carbon footprint and water footprint.

securing the cold chain – use of thermovision, gas chromatography
safety of refrigeration systems – refrigerants in refrigeration and air conditioning systems
Manager:
Elżbieta Polak, Ph.D.
phone. +48 42 674 64 14
mobile. +48 508 341 525
e-mail: elzbieta.polak@ibprs.pl